Drawing ultimately comes down to the ability to trace lines to represent an element. If we remove shadows, colors, and all the details, what remains is our line, the skeleton of our drawing.
Mastering our stroke is therefore essential to learn how to draw. The quality of a stroke depends on various factors: how we hold our pencil, our muscle memory, and our hand-eye coordination.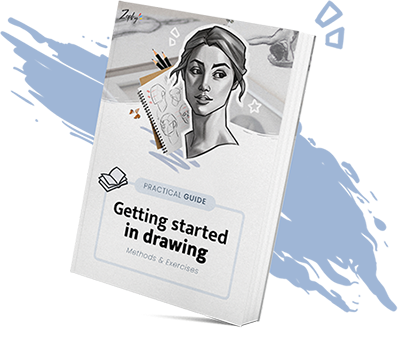 Discover our free guide to start drawing easily. You will learn practical methods and exercises to put into practice right away.
1 - First, learn to hold your pencil or stylus properly
By relearning how to hold our pencil, we can explore different ways of drawing. By varying the position of our hand and fingers, we can create various effects in our lines and achieve completely different results. 
Playing with the grip of the pencil will enhance our control and make us more comfortable, resulting in much better line quality.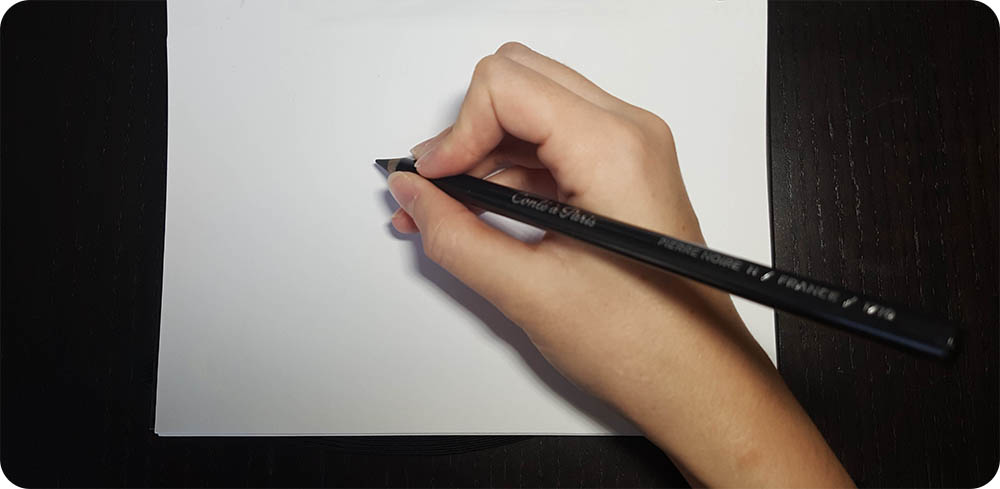 Instinctively, we tend to hold our pencil in a writing position when drawing. However, this position may not be optimal for learning to draw.
It limits our movements, and we often end up with shaky lines. The wrist restricts the range of motion, preventing us from making long lines. Nevertheless, this position is ideal for small movements and details, for example.

We think we have a good grasp of our pencil because we are used to holding it that way. This position feels stable, comfortable, and completely natural to us.

This position is very useful for making small movements. It's the ideal position for drawing details.

We quickly become limited in our movements, as we only draw with the wrist motion, thus lacking amplitude.

 It becomes too challenging to draw long, straight lines, and we naturally compensate by creating jerky lines.

Drawing a straight line in any direction without straining our wrist becomes difficult. A line from bottom to top will be much harder to achieve than a line from left to right.

We only use the tip of the pencil to draw. Tilting the pencil to vary the thickness of our lines is much too complex with this grip.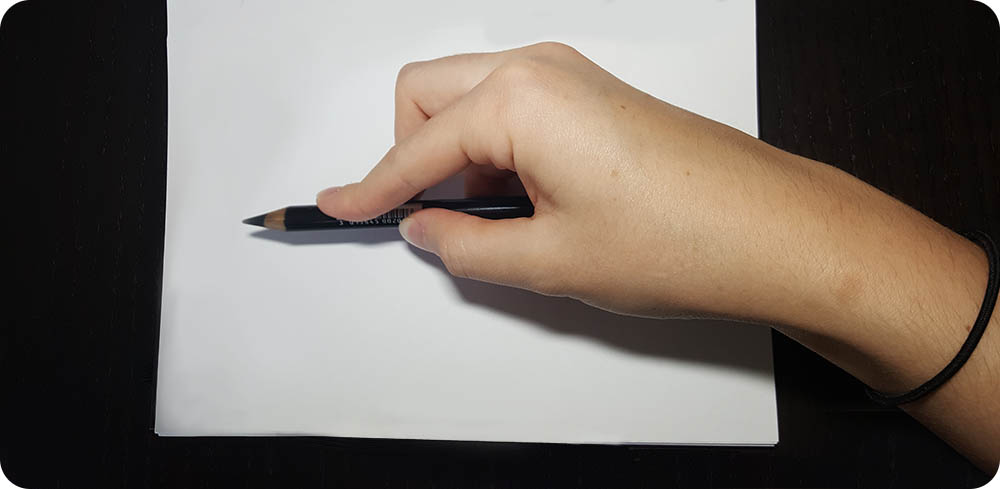 To overcome these issues, let's relearn how to hold our pencil to free up our hand and wrist. The idea is to place our hand above the pencil, positioning our index finger close to the tip.
This may seem unsettling, but this new grip can help us gain fluidity. It will allow us to have total control over our movement and improve our precision.

By not gripping the pencil tightly like in the writing position, we release the pressure exerted by the hand muscles. This results in lighter and smoother lines!

As our lines become more fluid, we gain speed and confidence. A swift stroke will be much more precise!

The wrist is completely liberated as we now move the entire arm. We will have the ability to draw lines in any direction.

We can now vary the line thickness by adjusting the orientation of the pencil, applying more pressure, or going over the lines multiple times.

Holding our pencil this way may feel quite uncomfortable at first, as this position doesn't seem natural. It takes some time and effort to get used to it
Learning to draw using the whole arm
Usually, we place our elbow on the table, and it's the wrist that does all the work. Our arm is literally stuck, and only the hand and fingers move.
To achieve fluid lines, we simply need to learn to use our entire arm. The freer our arm, the more fluid our strokes will become, as our movements will be more extensive.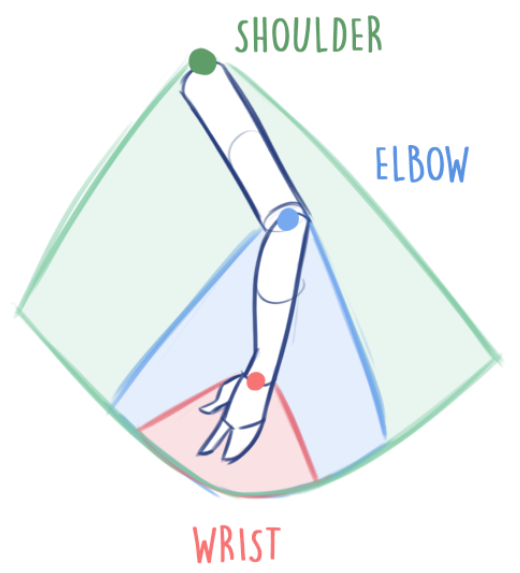 By moving the shoulder, we achieve a much larger range of motion. When it comes to drawing long and beautiful lines, this technique is much more suitable.
By practicing consciously, which means forcing yourself to draw using your entire arm, you will be able to master your strokes more quickly.
At first, you will need to make a conscious effort to focus on your arm. It will be a real challenge, but with practice, it will become second nature.
Drawing in this way allows us to achieve clean, smooth lines without any jitters or hatches. Drawing with the arm improves the quality of our lines.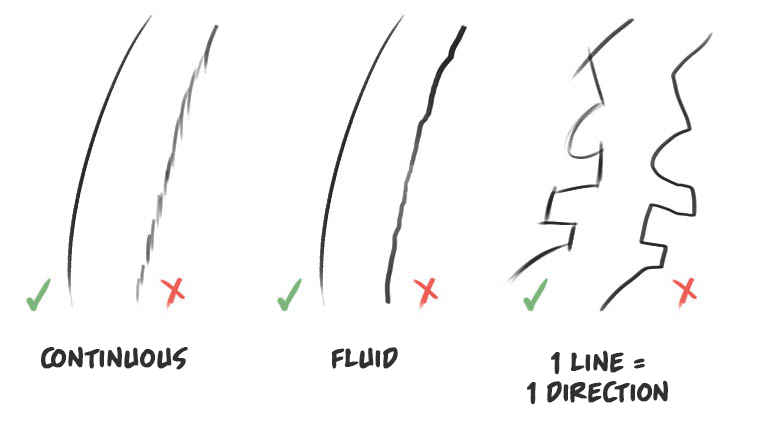 2 - Developing muscle memory and precision
Maintenant que we have learned how to hold our pencil correctly and draw using our entire arm, it's time to focus on improving precision! Enhancing our precision will allow us to fully control our strokes and elevate the quality of our drawings.
Precision is attained by developing our muscle memory and eye-hand coordination, which requires consistent practice and training.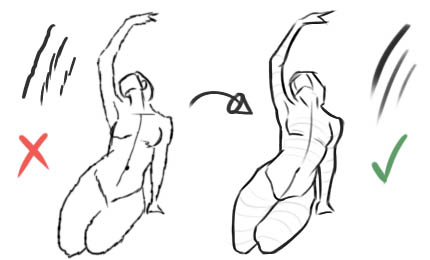 Let's imagine you decide to learn to play the piano. You will likely struggle to play chords at first because your fingers won't be flexible enough. After a few minutes, you might even feel your hand getting tense.
Only consistent practice and time will allow you to develop agility and flexibility. After a few weeks, you won't even realize that you can play chords effortlessly. The same applies to improving the precision of our drawing strokes.
Smart practice will help us develop our muscle memory and dexterity. With these improvements, our strokes will become highly precise.
📌 Performing precision exercises
An interesting exercise to improve our precision is to go over our lines multiple times. By doing this daily warm-up routine, it will inevitably enhance the quality of our lines!
Grab a sketchbook dedicated to your warm-up exercises along with a pencil or pen.
Draw a first short line using a ruler, to have an initial straight reference.
Make sure to lift your elbow from the table to avoid blocking your arm. You can draw in either the "drawing" or "writing" position. The key is to move your entire arm when you draw your lines.
Freehand, trace over your line 8 times, trying to be as precise as possible. Move your elbow, not just your wrist!
💡 Place your pencil on the starting point of the line. Then, focus your gaze on the ending point, where your line should finish. This way, you maximize your chances of having a line that follows the correct trajectory.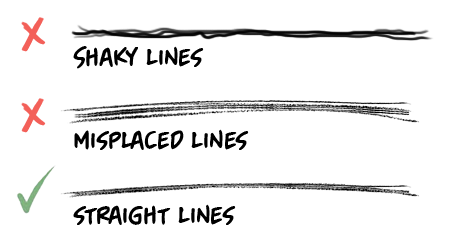 3 - Adding Depth by Varying Line Thickness
The thickness of a line is crucial in bringing dynamism and depth to our drawing. By varying our strokes and thickening certain outlines, we can direct attention to specific areas of the artwork.
When a line is wider, it automatically draws the viewer's eye and emphasizes important elements. Line thickness also adds a sense of volume, giving the drawing a three-dimensional quality.
As you can see, mastering the management of line thickness will greatly benefit our artistic skills. By refining this technique, we will be able to create visually captivating and expressive compositions.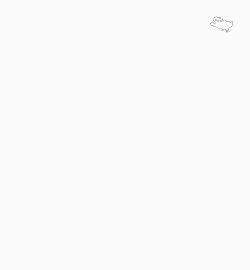 We can practice varying the thickness of our strokes by drawing waves. With each curve, we thicken the line by applying more pressure on our pencil or slightly tilting it.
Using a simple HB pencil often limits our ability to achieve a satisfying line thickness.
However, to have better control over the thickness, we can play with the pressure exerted on the paper and go over the stroke multiple times.
This trick will allow us to vary the thickness of our lines despite the limitations of the HB pencil.
💡 Prioritizing information helps us determine which lines should be thicker than others. To do that, take the time to analyze your drawing!

Thick lines: most important element of the drawing, outline of the main shape, shadowed areas

Medium lines: all the lines describing your secondary shapes

Fine lines: reserved for details and textures, background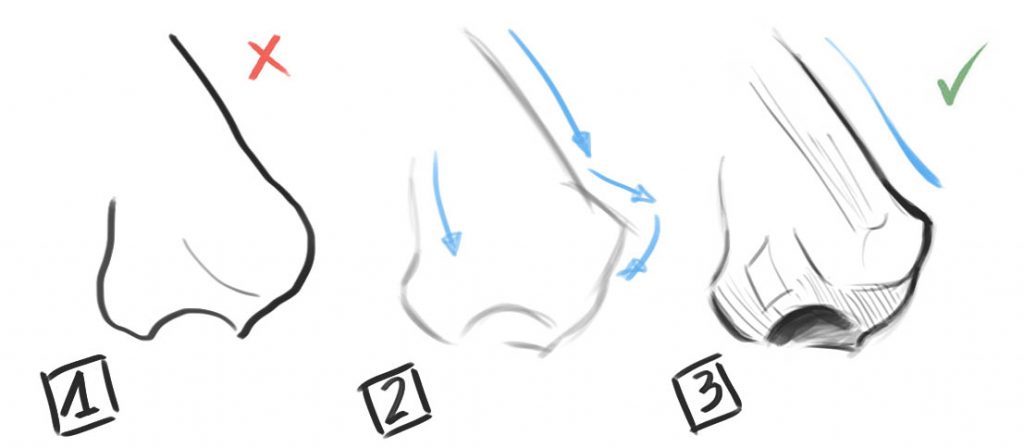 Not following the rule of one stroke per direction results in shaky, unrealistic lines. We lose control over the thickness because our focus is on proportions.
However, if we draw one stroke at a time, starting very lightly, we will achieve a better result. The stroke should be continuous, light, and thin, going from point A to point B without zigzags or detours.
Once our sketch is complete, we can go over it again to thicken our lines. Here, we intentionally increase the thickness of the nose tip to create a sense of volume since it's the element we want to emphasize.
We add some finer details to clearly distinguish between line thicknesses. The goal is to introduce variety and make the sketch more dynamic. Therefore, we don't hesitate to go over our lines multiple times.
4 - The Importance of Warm-up
Warming up is often neglected when it comes to drawing. However, it can truly enhance the quality of our lines. The concept is to have both our body and mind fully awakened, so we can perform at our best.
Of course, there's no risk of pulling a muscle. But by warming up before drawing, we prepare our mind and hand. It helps us unlock our arm and achieve smoother, more confident strokes when we begin our artwork.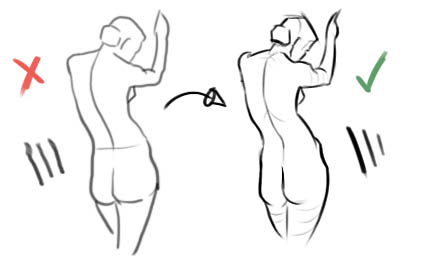 Think of it as a mini-meditation. By warming up, you'll enhance your ability to concentrate, becoming more focused on your lines and forgetting about everything else around you.
Our favorite books for line quality
Alphonso Dunn's works are excellent references for improving your lines. The artist focuses solely on ink drawing techniques.
The exercise book is very practical as it allows you to practice directly on paper. You apply all the principles learned from the guide and put them into action.
The ability to master our lines involves several points of progress:
Learning how to hold our pencil and move our arm.
Developing precision through targeted practice.
Varying the thickness of our lines with control and logic.
Developing muscle memory through warm-up exercises.
The act of drawing is the most important category in art, as it forms the skeleton of our artwork. Taking the time to work on our lines and mastering them is essential.
Your main goal is to learn how to eliminate shaky and jagged lines. And for that, there is no secret: you must relearn how to move your arm to achieve confident and clean lines. ✍️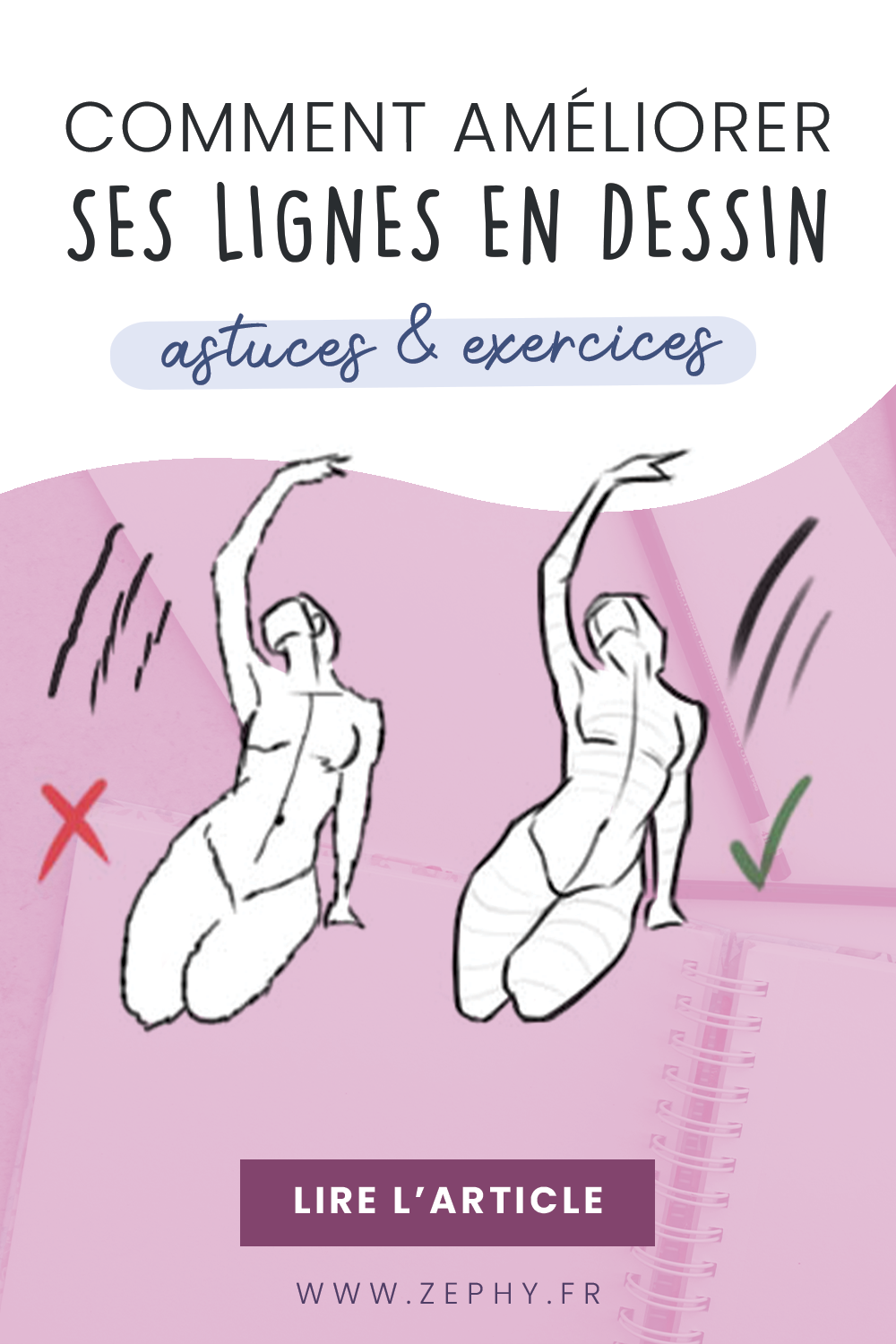 Save the article for future reference!
By hovering over the image, you can directly save the article to your Pinterest account. This also allows us to share the article with a wider audience of aspiring artists!